Way back in December, I think, I posted my first ever fanmix - a tiny little Ginny/Luna fic EP. Ever since then, I've been itching to do a full length mix for them, and, well, here it is :D Finally! I hope you all enjoy it as much as I enjoyed making it!

Medium: Books
Fandom: Harry Potter
Subject: Ginny Weasley/Luna Lovegood
Title: Air & Fire ("I Once Adored a Chemical Reaction")
Warnings/Rating: Utter, unashamedly chaotic tweeness <3 All ages.
ZIP?: Yes, follow me! (64.64MB)
Summary: In which Luna is a fish, and Ginny a seashell. Songs for long, breathless summers, kisses that taste like apples, grazed knee-adventures, and letters from afar. (They also get abducted by aliens Snorkacks at some point, but that's really a whole 'nother story :D)
NOTES: All music links will need changing from hxxp to http. Apologies for the inconvenience. I own nothing.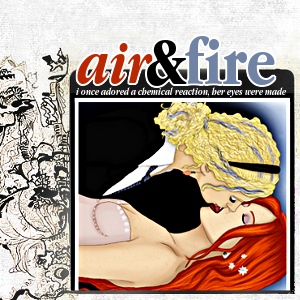 (Tracklist, front and back cover art, individual song links and lyric excerpts at my LJ.)